Hi,
I have a good working solution to get items from one listbox to another listbox and back.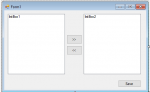 The listbox is filled by a list. Next step is to save the custom template from both listboxes.
I tried to do this with Properties.Setting.Default to save the listboxes. But when i can't find a way
to solve the following error:
System.ArgumentException: 'Items collection cannot be modified when the DataSource property is set.


This is my code so far:

[COLOR=#101094][FONT=inherit]public[/FONT][/COLOR][COLOR=#101094][FONT=inherit]partial[/FONT][/COLOR][COLOR=#101094][FONT=inherit]class[/FONT][/COLOR][COLOR=#2B91AF][FONT=inherit]Form1[/FONT][/COLOR][COLOR=#303336][FONT=inherit]:[/FONT][/COLOR][COLOR=#2B91AF][FONT=inherit]Form[/FONT][/COLOR]
[COLOR=#303336][FONT=inherit]{[/FONT][/COLOR][COLOR=#303336][FONT=inherit]
    [/FONT][/COLOR][COLOR=#2B91AF][FONT=inherit]List[/FONT][/COLOR][COLOR=#7D2727][FONT=inherit]<string>[/FONT][/COLOR][COLOR=#303336][FONT=inherit] l2[/FONT][/COLOR][COLOR=#303336][FONT=inherit];[/FONT][/COLOR][COLOR=#303336][FONT=inherit]
    [/FONT][/COLOR][COLOR=#101094][FONT=inherit]string[/FONT][/COLOR][COLOR=#303336][FONT=inherit] selectedItemText[/FONT][/COLOR][COLOR=#303336][FONT=inherit];[/FONT][/COLOR][COLOR=#303336][FONT=inherit]
    [/FONT][/COLOR][COLOR=#2B91AF][FONT=inherit]int[/FONT][/COLOR][COLOR=#2B91AF][FONT=inherit]SelectedIndex[/FONT][/COLOR][COLOR=#303336][FONT=inherit];[/FONT][/COLOR][COLOR=#303336][FONT=inherit]  

    [/FONT][/COLOR][COLOR=#101094][FONT=inherit]public[/FONT][/COLOR][COLOR=#2B91AF][FONT=inherit]Form1[/FONT][/COLOR][COLOR=#303336][FONT=inherit]()[/FONT][/COLOR][COLOR=#303336][FONT=inherit]
    [/FONT][/COLOR][COLOR=#303336][FONT=inherit]{[/FONT][/COLOR][COLOR=#303336][FONT=inherit]
        [/FONT][/COLOR][COLOR=#2B91AF][FONT=inherit]InitializeComponent[/FONT][/COLOR][COLOR=#303336][FONT=inherit]();[/FONT][/COLOR][COLOR=#303336][FONT=inherit]           

        l2 [/FONT][/COLOR][COLOR=#303336][FONT=inherit]=[/FONT][/COLOR][COLOR=#101094][FONT=inherit]new[/FONT][/COLOR][COLOR=#2B91AF][FONT=inherit]List[/FONT][/COLOR][COLOR=#7D2727][FONT=inherit]<string>[/FONT][/COLOR][COLOR=#303336][FONT=inherit]();[/FONT][/COLOR][COLOR=#303336][FONT=inherit]
        l2[/FONT][/COLOR][COLOR=#303336][FONT=inherit].[/FONT][/COLOR][COLOR=#2B91AF][FONT=inherit]Add[/FONT][/COLOR][COLOR=#303336][FONT=inherit]([/FONT][/COLOR][COLOR=#7D2727][FONT=inherit]"1"[/FONT][/COLOR][COLOR=#303336][FONT=inherit]);[/FONT][/COLOR][COLOR=#303336][FONT=inherit]
        l2[/FONT][/COLOR][COLOR=#303336][FONT=inherit].[/FONT][/COLOR][COLOR=#2B91AF][FONT=inherit]Add[/FONT][/COLOR][COLOR=#303336][FONT=inherit]([/FONT][/COLOR][COLOR=#7D2727][FONT=inherit]"2"[/FONT][/COLOR][COLOR=#303336][FONT=inherit]);[/FONT][/COLOR][COLOR=#303336][FONT=inherit]
        l2[/FONT][/COLOR][COLOR=#303336][FONT=inherit].[/FONT][/COLOR][COLOR=#2B91AF][FONT=inherit]Add[/FONT][/COLOR][COLOR=#303336][FONT=inherit]([/FONT][/COLOR][COLOR=#7D2727][FONT=inherit]"3"[/FONT][/COLOR][COLOR=#303336][FONT=inherit]);[/FONT][/COLOR][COLOR=#303336][FONT=inherit]
        l2[/FONT][/COLOR][COLOR=#303336][FONT=inherit].[/FONT][/COLOR][COLOR=#2B91AF][FONT=inherit]Add[/FONT][/COLOR][COLOR=#303336][FONT=inherit]([/FONT][/COLOR][COLOR=#7D2727][FONT=inherit]"4"[/FONT][/COLOR][COLOR=#303336][FONT=inherit]);[/FONT][/COLOR][COLOR=#303336][FONT=inherit]
        l2[/FONT][/COLOR][COLOR=#303336][FONT=inherit].[/FONT][/COLOR][COLOR=#2B91AF][FONT=inherit]Add[/FONT][/COLOR][COLOR=#303336][FONT=inherit]([/FONT][/COLOR][COLOR=#7D2727][FONT=inherit]"5"[/FONT][/COLOR][COLOR=#303336][FONT=inherit]);[/FONT][/COLOR][COLOR=#303336][FONT=inherit]

        listBox1[/FONT][/COLOR][COLOR=#303336][FONT=inherit].[/FONT][/COLOR][COLOR=#2B91AF][FONT=inherit]DataSource[/FONT][/COLOR][COLOR=#303336][FONT=inherit]=[/FONT][/COLOR][COLOR=#303336][FONT=inherit] l2[/FONT][/COLOR][COLOR=#303336][FONT=inherit];[/FONT][/COLOR][COLOR=#303336][FONT=inherit]
    [/FONT][/COLOR][COLOR=#303336][FONT=inherit]}[/FONT][/COLOR][COLOR=#303336][FONT=inherit]

    [/FONT][/COLOR][COLOR=#101094][FONT=inherit]private[/FONT][/COLOR][COLOR=#101094][FONT=inherit]void[/FONT][/COLOR][COLOR=#2B91AF][FONT=inherit]Form1_Load[/FONT][/COLOR][COLOR=#303336][FONT=inherit]([/FONT][/COLOR][COLOR=#101094][FONT=inherit]object[/FONT][/COLOR][COLOR=#303336][FONT=inherit] sender[/FONT][/COLOR][COLOR=#303336][FONT=inherit],[/FONT][/COLOR][COLOR=#2B91AF][FONT=inherit]EventArgs[/FONT][/COLOR][COLOR=#303336][FONT=inherit] e[/FONT][/COLOR][COLOR=#303336][FONT=inherit])[/FONT][/COLOR][COLOR=#303336][FONT=inherit]
    [/FONT][/COLOR][COLOR=#303336][FONT=inherit]{[/FONT][/COLOR][COLOR=#303336][FONT=inherit]         
        listBox1[/FONT][/COLOR][COLOR=#303336][FONT=inherit].[/FONT][/COLOR][COLOR=#2B91AF][FONT=inherit]Items[/FONT][/COLOR][COLOR=#303336][FONT=inherit].[/FONT][/COLOR][COLOR=#2B91AF][FONT=inherit]Clear[/FONT][/COLOR][COLOR=#303336][FONT=inherit]();[/FONT][/COLOR][COLOR=#303336][FONT=inherit]
        [/FONT][/COLOR][COLOR=#101094][FONT=inherit]foreach[/FONT][/COLOR][COLOR=#303336][FONT=inherit]([/FONT][/COLOR][COLOR=#101094][FONT=inherit]object[/FONT][/COLOR][COLOR=#303336][FONT=inherit] item [/FONT][/COLOR][COLOR=#101094][FONT=inherit]in[/FONT][/COLOR][COLOR=#2B91AF][FONT=inherit]Properties[/FONT][/COLOR][COLOR=#303336][FONT=inherit].[/FONT][/COLOR][COLOR=#2B91AF][FONT=inherit]Settings[/FONT][/COLOR][COLOR=#303336][FONT=inherit].[/FONT][/COLOR][COLOR=#2B91AF][FONT=inherit]Default[/FONT][/COLOR][COLOR=#303336][FONT=inherit].[/FONT][/COLOR][COLOR=#303336][FONT=inherit]listSave[/FONT][/COLOR][COLOR=#303336][FONT=inherit])[/FONT][/COLOR][COLOR=#303336][FONT=inherit]
        [/FONT][/COLOR][COLOR=#303336][FONT=inherit]{[/FONT][/COLOR][COLOR=#303336][FONT=inherit]
            listBox1[/FONT][/COLOR][COLOR=#303336][FONT=inherit].[/FONT][/COLOR][COLOR=#2B91AF][FONT=inherit]Items[/FONT][/COLOR][COLOR=#303336][FONT=inherit].[/FONT][/COLOR][COLOR=#2B91AF][FONT=inherit]Add[/FONT][/COLOR][COLOR=#303336][FONT=inherit]([/FONT][/COLOR][COLOR=#303336][FONT=inherit]item[/FONT][/COLOR][COLOR=#303336][FONT=inherit]);[/FONT][/COLOR][COLOR=#303336][FONT=inherit]
        [/FONT][/COLOR][COLOR=#303336][FONT=inherit]}[/FONT][/COLOR][COLOR=#303336][FONT=inherit]

        listBox2[/FONT][/COLOR][COLOR=#303336][FONT=inherit].[/FONT][/COLOR][COLOR=#2B91AF][FONT=inherit]Items[/FONT][/COLOR][COLOR=#303336][FONT=inherit].[/FONT][/COLOR][COLOR=#2B91AF][FONT=inherit]Clear[/FONT][/COLOR][COLOR=#303336][FONT=inherit]();[/FONT][/COLOR][COLOR=#303336][FONT=inherit]
        [/FONT][/COLOR][COLOR=#101094][FONT=inherit]foreach[/FONT][/COLOR][COLOR=#303336][FONT=inherit]([/FONT][/COLOR][COLOR=#101094][FONT=inherit]object[/FONT][/COLOR][COLOR=#303336][FONT=inherit] item [/FONT][/COLOR][COLOR=#101094][FONT=inherit]in[/FONT][/COLOR][COLOR=#2B91AF][FONT=inherit]Properties[/FONT][/COLOR][COLOR=#303336][FONT=inherit].[/FONT][/COLOR][COLOR=#2B91AF][FONT=inherit]Settings[/FONT][/COLOR][COLOR=#303336][FONT=inherit].[/FONT][/COLOR][COLOR=#2B91AF][FONT=inherit]Default[/FONT][/COLOR][COLOR=#303336][FONT=inherit].[/FONT][/COLOR][COLOR=#303336][FONT=inherit]listSave2[/FONT][/COLOR][COLOR=#303336][FONT=inherit])[/FONT][/COLOR][COLOR=#303336][FONT=inherit]
        [/FONT][/COLOR][COLOR=#303336][FONT=inherit]{[/FONT][/COLOR][COLOR=#303336][FONT=inherit]
            listBox2[/FONT][/COLOR][COLOR=#303336][FONT=inherit].[/FONT][/COLOR][COLOR=#2B91AF][FONT=inherit]Items[/FONT][/COLOR][COLOR=#303336][FONT=inherit].[/FONT][/COLOR][COLOR=#2B91AF][FONT=inherit]Add[/FONT][/COLOR][COLOR=#303336][FONT=inherit]([/FONT][/COLOR][COLOR=#303336][FONT=inherit]item[/FONT][/COLOR][COLOR=#303336][FONT=inherit]);[/FONT][/COLOR][COLOR=#303336][FONT=inherit]
        [/FONT][/COLOR][COLOR=#303336][FONT=inherit]}[/FONT][/COLOR][COLOR=#303336][FONT=inherit]            
    [/FONT][/COLOR][COLOR=#303336][FONT=inherit]}[/FONT][/COLOR][COLOR=#303336][FONT=inherit]

    [/FONT][/COLOR][COLOR=#101094][FONT=inherit]private[/FONT][/COLOR][COLOR=#101094][FONT=inherit]void[/FONT][/COLOR][COLOR=#303336][FONT=inherit] button1_Click[/FONT][/COLOR][COLOR=#303336][FONT=inherit]([/FONT][/COLOR][COLOR=#101094][FONT=inherit]object[/FONT][/COLOR][COLOR=#303336][FONT=inherit] sender[/FONT][/COLOR][COLOR=#303336][FONT=inherit],[/FONT][/COLOR][COLOR=#2B91AF][FONT=inherit]EventArgs[/FONT][/COLOR][COLOR=#303336][FONT=inherit] e[/FONT][/COLOR][COLOR=#303336][FONT=inherit])[/FONT][/COLOR][COLOR=#303336][FONT=inherit]
    [/FONT][/COLOR][COLOR=#303336][FONT=inherit]{[/FONT][/COLOR][COLOR=#303336][FONT=inherit]
        [/FONT][/COLOR][COLOR=#101094][FONT=inherit]this[/FONT][/COLOR][COLOR=#303336][FONT=inherit].[/FONT][/COLOR][COLOR=#2B91AF][FONT=inherit]Close[/FONT][/COLOR][COLOR=#303336][FONT=inherit]();[/FONT][/COLOR][COLOR=#303336][FONT=inherit]

        [/FONT][/COLOR][COLOR=#2B91AF][FONT=inherit]Properties[/FONT][/COLOR][COLOR=#303336][FONT=inherit].[/FONT][/COLOR][COLOR=#2B91AF][FONT=inherit]Settings[/FONT][/COLOR][COLOR=#303336][FONT=inherit].[/FONT][/COLOR][COLOR=#2B91AF][FONT=inherit]Default[/FONT][/COLOR][COLOR=#303336][FONT=inherit].[/FONT][/COLOR][COLOR=#303336][FONT=inherit]listSave[/FONT][/COLOR][COLOR=#303336][FONT=inherit].[/FONT][/COLOR][COLOR=#2B91AF][FONT=inherit]Clear[/FONT][/COLOR][COLOR=#303336][FONT=inherit]();[/FONT][/COLOR][COLOR=#303336][FONT=inherit]
        [/FONT][/COLOR][COLOR=#2B91AF][FONT=inherit]Properties[/FONT][/COLOR][COLOR=#303336][FONT=inherit].[/FONT][/COLOR][COLOR=#2B91AF][FONT=inherit]Settings[/FONT][/COLOR][COLOR=#303336][FONT=inherit].[/FONT][/COLOR][COLOR=#2B91AF][FONT=inherit]Default[/FONT][/COLOR][COLOR=#303336][FONT=inherit].[/FONT][/COLOR][COLOR=#303336][FONT=inherit]listSave2[/FONT][/COLOR][COLOR=#303336][FONT=inherit].[/FONT][/COLOR][COLOR=#2B91AF][FONT=inherit]Clear[/FONT][/COLOR][COLOR=#303336][FONT=inherit]();[/FONT][/COLOR][COLOR=#303336][FONT=inherit]

        [/FONT][/COLOR][COLOR=#101094][FONT=inherit]foreach[/FONT][/COLOR][COLOR=#303336][FONT=inherit]([/FONT][/COLOR][COLOR=#101094][FONT=inherit]object[/FONT][/COLOR][COLOR=#303336][FONT=inherit] item [/FONT][/COLOR][COLOR=#101094][FONT=inherit]in[/FONT][/COLOR][COLOR=#303336][FONT=inherit] listBox1[/FONT][/COLOR][COLOR=#303336][FONT=inherit].[/FONT][/COLOR][COLOR=#2B91AF][FONT=inherit]Items[/FONT][/COLOR][COLOR=#303336][FONT=inherit])[/FONT][/COLOR][COLOR=#303336][FONT=inherit]
        [/FONT][/COLOR][COLOR=#303336][FONT=inherit]{[/FONT][/COLOR][COLOR=#303336][FONT=inherit]
            [/FONT][/COLOR][COLOR=#2B91AF][FONT=inherit]Properties[/FONT][/COLOR][COLOR=#303336][FONT=inherit].[/FONT][/COLOR][COLOR=#2B91AF][FONT=inherit]Settings[/FONT][/COLOR][COLOR=#303336][FONT=inherit].[/FONT][/COLOR][COLOR=#2B91AF][FONT=inherit]Default[/FONT][/COLOR][COLOR=#303336][FONT=inherit].[/FONT][/COLOR][COLOR=#303336][FONT=inherit]listSave[/FONT][/COLOR][COLOR=#303336][FONT=inherit].[/FONT][/COLOR][COLOR=#2B91AF][FONT=inherit]Add[/FONT][/COLOR][COLOR=#303336][FONT=inherit]([/FONT][/COLOR][COLOR=#303336][FONT=inherit]item[/FONT][/COLOR][COLOR=#303336][FONT=inherit].[/FONT][/COLOR][COLOR=#2B91AF][FONT=inherit]ToString[/FONT][/COLOR][COLOR=#303336][FONT=inherit]());[/FONT][/COLOR][COLOR=#303336][FONT=inherit]
        [/FONT][/COLOR][COLOR=#303336][FONT=inherit]}[/FONT][/COLOR][COLOR=#303336][FONT=inherit]

        [/FONT][/COLOR][COLOR=#101094][FONT=inherit]foreach[/FONT][/COLOR][COLOR=#303336][FONT=inherit]([/FONT][/COLOR][COLOR=#101094][FONT=inherit]object[/FONT][/COLOR][COLOR=#303336][FONT=inherit] item [/FONT][/COLOR][COLOR=#101094][FONT=inherit]in[/FONT][/COLOR][COLOR=#303336][FONT=inherit] listBox2[/FONT][/COLOR][COLOR=#303336][FONT=inherit].[/FONT][/COLOR][COLOR=#2B91AF][FONT=inherit]Items[/FONT][/COLOR][COLOR=#303336][FONT=inherit])[/FONT][/COLOR][COLOR=#303336][FONT=inherit]
        [/FONT][/COLOR][COLOR=#303336][FONT=inherit]{[/FONT][/COLOR][COLOR=#303336][FONT=inherit]
            [/FONT][/COLOR][COLOR=#2B91AF][FONT=inherit]Properties[/FONT][/COLOR][COLOR=#303336][FONT=inherit].[/FONT][/COLOR][COLOR=#2B91AF][FONT=inherit]Settings[/FONT][/COLOR][COLOR=#303336][FONT=inherit].[/FONT][/COLOR][COLOR=#2B91AF][FONT=inherit]Default[/FONT][/COLOR][COLOR=#303336][FONT=inherit].[/FONT][/COLOR][COLOR=#303336][FONT=inherit]listSave2[/FONT][/COLOR][COLOR=#303336][FONT=inherit].[/FONT][/COLOR][COLOR=#2B91AF][FONT=inherit]Add[/FONT][/COLOR][COLOR=#303336][FONT=inherit]([/FONT][/COLOR][COLOR=#303336][FONT=inherit]item[/FONT][/COLOR][COLOR=#303336][FONT=inherit].[/FONT][/COLOR][COLOR=#2B91AF][FONT=inherit]ToString[/FONT][/COLOR][COLOR=#303336][FONT=inherit]());[/FONT][/COLOR][COLOR=#303336][FONT=inherit]
        [/FONT][/COLOR][COLOR=#303336][FONT=inherit]}[/FONT][/COLOR][COLOR=#303336][FONT=inherit]
        [/FONT][/COLOR][COLOR=#2B91AF][FONT=inherit]Properties[/FONT][/COLOR][COLOR=#303336][FONT=inherit].[/FONT][/COLOR][COLOR=#2B91AF][FONT=inherit]Settings[/FONT][/COLOR][COLOR=#303336][FONT=inherit].[/FONT][/COLOR][COLOR=#2B91AF][FONT=inherit]Default[/FONT][/COLOR][COLOR=#303336][FONT=inherit].[/FONT][/COLOR][COLOR=#2B91AF][FONT=inherit]Save[/FONT][/COLOR][COLOR=#303336][FONT=inherit]();[/FONT][/COLOR][COLOR=#303336][FONT=inherit]          

    [/FONT][/COLOR][COLOR=#303336][FONT=inherit]}[/FONT][/COLOR][COLOR=#303336][FONT=inherit]

    [/FONT][/COLOR][COLOR=#101094][FONT=inherit]private[/FONT][/COLOR][COLOR=#101094][FONT=inherit]void[/FONT][/COLOR][COLOR=#303336][FONT=inherit] button2_Click_1[/FONT][/COLOR][COLOR=#303336][FONT=inherit]([/FONT][/COLOR][COLOR=#101094][FONT=inherit]object[/FONT][/COLOR][COLOR=#303336][FONT=inherit] sender[/FONT][/COLOR][COLOR=#303336][FONT=inherit],[/FONT][/COLOR][COLOR=#2B91AF][FONT=inherit]EventArgs[/FONT][/COLOR][COLOR=#303336][FONT=inherit] e[/FONT][/COLOR][COLOR=#303336][FONT=inherit])[/FONT][/COLOR][COLOR=#303336][FONT=inherit]
    [/FONT][/COLOR][COLOR=#303336][FONT=inherit]{[/FONT][/COLOR][COLOR=#303336][FONT=inherit]
        selectedItemText [/FONT][/COLOR][COLOR=#303336][FONT=inherit]=[/FONT][/COLOR][COLOR=#303336][FONT=inherit] listBox1[/FONT][/COLOR][COLOR=#303336][FONT=inherit].[/FONT][/COLOR][COLOR=#2B91AF][FONT=inherit]SelectedItem[/FONT][/COLOR][COLOR=#303336][FONT=inherit].[/FONT][/COLOR][COLOR=#2B91AF][FONT=inherit]ToString[/FONT][/COLOR][COLOR=#303336][FONT=inherit]();[/FONT][/COLOR][COLOR=#303336][FONT=inherit]
        [/FONT][/COLOR][COLOR=#2B91AF][FONT=inherit]SelectedIndex[/FONT][/COLOR][COLOR=#303336][FONT=inherit]=[/FONT][/COLOR][COLOR=#303336][FONT=inherit] listBox1[/FONT][/COLOR][COLOR=#303336][FONT=inherit].[/FONT][/COLOR][COLOR=#2B91AF][FONT=inherit]SelectedIndex[/FONT][/COLOR][COLOR=#303336][FONT=inherit];[/FONT][/COLOR][COLOR=#303336][FONT=inherit]

        listBox2[/FONT][/COLOR][COLOR=#303336][FONT=inherit].[/FONT][/COLOR][COLOR=#2B91AF][FONT=inherit]Items[/FONT][/COLOR][COLOR=#303336][FONT=inherit].[/FONT][/COLOR][COLOR=#2B91AF][FONT=inherit]Add[/FONT][/COLOR][COLOR=#303336][FONT=inherit]([/FONT][/COLOR][COLOR=#303336][FONT=inherit]selectedItemText[/FONT][/COLOR][COLOR=#303336][FONT=inherit]);[/FONT][/COLOR][COLOR=#303336][FONT=inherit]

        [/FONT][/COLOR][COLOR=#101094][FONT=inherit]if[/FONT][/COLOR][COLOR=#303336][FONT=inherit]([/FONT][/COLOR][COLOR=#303336][FONT=inherit]l2 [/FONT][/COLOR][COLOR=#303336][FONT=inherit]!=[/FONT][/COLOR][COLOR=#101094][FONT=inherit]null[/FONT][/COLOR][COLOR=#303336][FONT=inherit])[/FONT][/COLOR][COLOR=#303336][FONT=inherit]
        [/FONT][/COLOR][COLOR=#303336][FONT=inherit]{[/FONT][/COLOR][COLOR=#303336][FONT=inherit]
            l2[/FONT][/COLOR][COLOR=#303336][FONT=inherit].[/FONT][/COLOR][COLOR=#2B91AF][FONT=inherit]RemoveAt[/FONT][/COLOR][COLOR=#303336][FONT=inherit]([/FONT][/COLOR][COLOR=#2B91AF][FONT=inherit]SelectedIndex[/FONT][/COLOR][COLOR=#303336][FONT=inherit]);[/FONT][/COLOR][COLOR=#303336][FONT=inherit]
        [/FONT][/COLOR][COLOR=#303336][FONT=inherit]}[/FONT][/COLOR][COLOR=#303336][FONT=inherit]

        [/FONT][/COLOR][COLOR=#2B91AF][FONT=inherit]DataBindings[/FONT][/COLOR][COLOR=#303336][FONT=inherit]();[/FONT][/COLOR][COLOR=#303336][FONT=inherit]
    [/FONT][/COLOR][COLOR=#303336][FONT=inherit]}[/FONT][/COLOR][COLOR=#303336][FONT=inherit]

    [/FONT][/COLOR][COLOR=#101094][FONT=inherit]private[/FONT][/COLOR][COLOR=#101094][FONT=inherit]void[/FONT][/COLOR][COLOR=#2B91AF][FONT=inherit]DataBindings[/FONT][/COLOR][COLOR=#303336][FONT=inherit]()[/FONT][/COLOR][COLOR=#303336][FONT=inherit]
    [/FONT][/COLOR][COLOR=#303336][FONT=inherit]{[/FONT][/COLOR][COLOR=#303336][FONT=inherit]
        listBox1[/FONT][/COLOR][COLOR=#303336][FONT=inherit].[/FONT][/COLOR][COLOR=#2B91AF][FONT=inherit]DataSource[/FONT][/COLOR][COLOR=#303336][FONT=inherit]=[/FONT][/COLOR][COLOR=#101094][FONT=inherit]null[/FONT][/COLOR][COLOR=#303336][FONT=inherit];[/FONT][/COLOR][COLOR=#303336][FONT=inherit]
        listBox1[/FONT][/COLOR][COLOR=#303336][FONT=inherit].[/FONT][/COLOR][COLOR=#2B91AF][FONT=inherit]DataSource[/FONT][/COLOR][COLOR=#303336][FONT=inherit]=[/FONT][/COLOR][COLOR=#303336][FONT=inherit] l2[/FONT][/COLOR][COLOR=#303336][FONT=inherit];[/FONT][/COLOR][COLOR=#303336][FONT=inherit]

    [/FONT][/COLOR][COLOR=#303336][FONT=inherit]}[/FONT][/COLOR][COLOR=#303336][FONT=inherit]

    [/FONT][/COLOR][COLOR=#101094][FONT=inherit]private[/FONT][/COLOR][COLOR=#101094][FONT=inherit]void[/FONT][/COLOR][COLOR=#303336][FONT=inherit] button4_Click[/FONT][/COLOR][COLOR=#303336][FONT=inherit]([/FONT][/COLOR][COLOR=#101094][FONT=inherit]object[/FONT][/COLOR][COLOR=#303336][FONT=inherit] sender[/FONT][/COLOR][COLOR=#303336][FONT=inherit],[/FONT][/COLOR][COLOR=#2B91AF][FONT=inherit]EventArgs[/FONT][/COLOR][COLOR=#303336][FONT=inherit] e[/FONT][/COLOR][COLOR=#303336][FONT=inherit])[/FONT][/COLOR][COLOR=#303336][FONT=inherit]
    [/FONT][/COLOR][COLOR=#303336][FONT=inherit]{[/FONT][/COLOR][COLOR=#303336][FONT=inherit]
        selectedItemText [/FONT][/COLOR][COLOR=#303336][FONT=inherit]=[/FONT][/COLOR][COLOR=#303336][FONT=inherit] listBox2[/FONT][/COLOR][COLOR=#303336][FONT=inherit].[/FONT][/COLOR][COLOR=#2B91AF][FONT=inherit]SelectedItem[/FONT][/COLOR][COLOR=#303336][FONT=inherit].[/FONT][/COLOR][COLOR=#2B91AF][FONT=inherit]ToString[/FONT][/COLOR][COLOR=#303336][FONT=inherit]();[/FONT][/COLOR][COLOR=#303336][FONT=inherit]
        [/FONT][/COLOR][COLOR=#2B91AF][FONT=inherit]SelectedIndex[/FONT][/COLOR][COLOR=#303336][FONT=inherit]=[/FONT][/COLOR][COLOR=#303336][FONT=inherit] listBox2[/FONT][/COLOR][COLOR=#303336][FONT=inherit].[/FONT][/COLOR][COLOR=#2B91AF][FONT=inherit]SelectedIndex[/FONT][/COLOR][COLOR=#303336][FONT=inherit];[/FONT][/COLOR][COLOR=#303336][FONT=inherit]
        l2[/FONT][/COLOR][COLOR=#303336][FONT=inherit].[/FONT][/COLOR][COLOR=#2B91AF][FONT=inherit]Add[/FONT][/COLOR][COLOR=#303336][FONT=inherit]([/FONT][/COLOR][COLOR=#303336][FONT=inherit]selectedItemText[/FONT][/COLOR][COLOR=#303336][FONT=inherit]);[/FONT][/COLOR][COLOR=#303336][FONT=inherit]

        listBox2[/FONT][/COLOR][COLOR=#303336][FONT=inherit].[/FONT][/COLOR][COLOR=#2B91AF][FONT=inherit]Items[/FONT][/COLOR][COLOR=#303336][FONT=inherit].[/FONT][/COLOR][COLOR=#2B91AF][FONT=inherit]RemoveAt[/FONT][/COLOR][COLOR=#303336][FONT=inherit]([/FONT][/COLOR][COLOR=#303336][FONT=inherit]listBox2[/FONT][/COLOR][COLOR=#303336][FONT=inherit].[/FONT][/COLOR][COLOR=#2B91AF][FONT=inherit]Items[/FONT][/COLOR][COLOR=#303336][FONT=inherit].[/FONT][/COLOR][COLOR=#2B91AF][FONT=inherit]IndexOf[/FONT][/COLOR][COLOR=#303336][FONT=inherit]([/FONT][/COLOR][COLOR=#303336][FONT=inherit]listBox2[/FONT][/COLOR][COLOR=#303336][FONT=inherit].[/FONT][/COLOR][COLOR=#2B91AF][FONT=inherit]SelectedItem[/FONT][/COLOR][COLOR=#303336][FONT=inherit]));[/FONT][/COLOR][COLOR=#303336][FONT=inherit]

        [/FONT][/COLOR][COLOR=#2B91AF][FONT=inherit]DataBindings[/FONT][/COLOR][COLOR=#303336][FONT=inherit]();[/FONT][/COLOR][COLOR=#303336][FONT=inherit]
    [/FONT][/COLOR][COLOR=#303336][FONT=inherit]}
[/FONT][/COLOR][COLOR=#303336][FONT=inherit]}[/FONT][/COLOR]